An upland mixed bag of quail, pheasant and chukar over pointers; European-style driven-pheasant shooting; and decoyed mallard hunts—experience the "Texas Trifecta" at Joshua Creek Ranch! Director of Marketing, Sales & Guest Services Kevin Welborn recently answered some frequently asked questions about the lodge.
Where is your lodge located?
We are located in the heart of the renowned Texas Hill Country, which is considered one of the most scenic parts of the state. More specifically, the ranch sits along the pristine banks of the famous Guadalupe River on the outskirts of Boerne, about 45 minutes northwest of San Antonio.
What bird species do you offer, and what is the limit?
From mid-September through April we hunt quail, pheasant, chukar and mallards in a variety of different scenarios. Our most common bird hunts are unlimited—in other words, hunters may shoot as many birds as presented during their designated hunting period. We do offer some limited bird hunts where hunters may shoot up to a designated limit of birds presented during their hunting period. Regardless of your hunting package, your guide and team of dogs will show you plenty of birds and fair shot opportunities.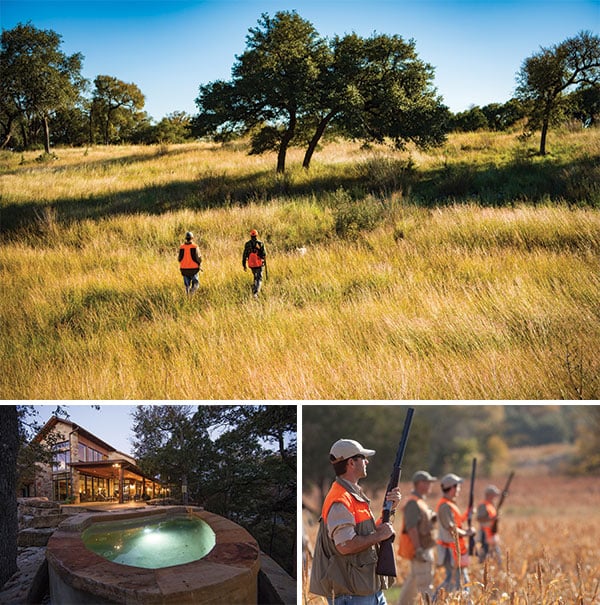 What is your hunter-to-guide ratio?
We go with a max of three hunters per guide for upland walk-up hunts, and we do not mix groups. Pheasant drives and mallard hunts require a minimum of four shooters. The ideal number of hunters for a single driven-pheasant line is eight to 10-plus, but we can accommodate up to three different lines simultaneously, each with its own guide and dog teams. For mallards, the ideal number of shooters positioned in blinds around our duck ponds is 10 to 12-plus.
What are the terrain and cover like?
Most of the ranch is lightly wooded upland pastures planted with improved grasses that are managed for bird hunting habitat. The bottomlands along Joshua Creek and the Guadalupe River are largely open fields planted in food and cover crops—perfect for flushing quail, pheasant and chukar. Our driven shoots make use of multiple limestone bluffs to produce high, hard-flying birds. For the duck hunts, we have comfortable blinds strategically positioned around two shallow ponds. The rest of the ranch is heavy timber and the typical Texas Hill Country flora that provides cover and food for excellent whitetail, axis deer and Rio Grande turkey hunting.
Do you hunt with pointing or flushing dogs? Can a hunter bring and hunt with his or her dog—and if so, where will the dog stay?
The kennel at Joshua Creek Ranch features more than 100 working dogs with numerous breeds of pointers, flushers and retrievers. Hunting guests are welcome to bring their own dogs, and designated outdoor kennels are available at most lodging venues.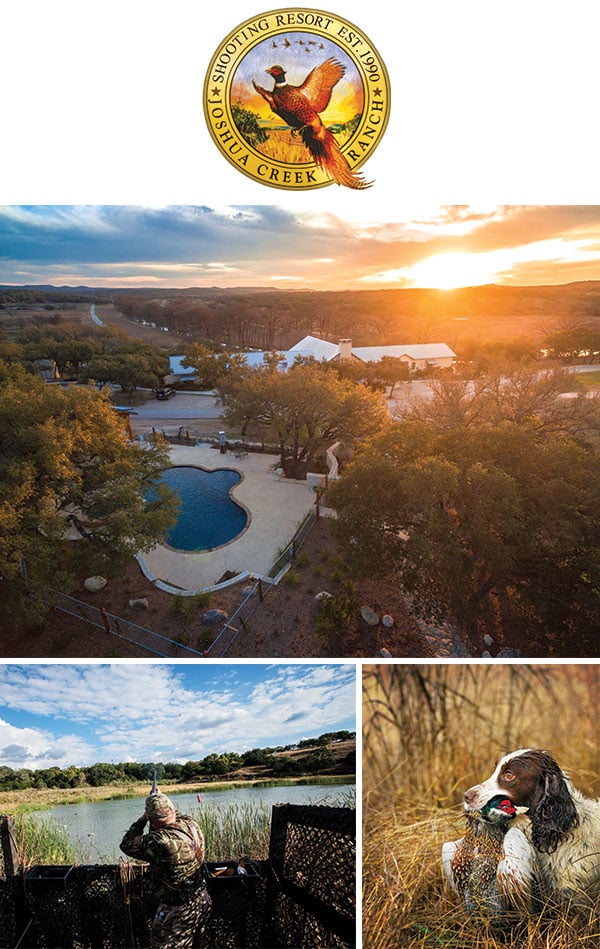 Do you welcome non-hunting spouses—and if so, what is there for them to do?
Non-hunting spouses and guests are absolutely welcome. In addition to relaxing and enjoying the beautiful scenery, there are plenty of sporting activities for them to enjoy on-property, including sporting clays, fly-fishing and water recreation on Joshua Creek and the resort-style pool and hot tub. There are also numerous towns nearby for shopping, wineries and other attractions for those interested in day trips.
How is your lodging managed?
The ranch features award-winning lodging and facilities that can accommodate up to 60 guests overnight at double occupancy. From two lodges with 19 private rooms to four private ranch houses, including a 5,000-square-foot custom home overlooking the Guadalupe River, Joshua Creek Ranch lodging reflects the traditional rustic elegance of the Texas Hill Country combined with the luxury, comforts and conveniences of a modern home.
PHOTOGRAPHS COURTESY OF JOSHUA CREEK RANCH
---