The Shooting Sportsman Endorsed Lodge Program and Flying B Ranch recently reviewed some FAQs that show why this Idaho gem is such a popular Western destination. Marketing Manager Karen Syron took a minute to field a few questions…
Where is your lodge located?
We are located in the central part of the state on the edge of the Nez Perce-Clearwater National Forests. We recommend flying commercially into Lewiston (LWS) or Pullman (PUW, just over the Washington line), or privately into the local Idaho County Regional, which has a 5,000-foot runway. We run complimentary shuttles to all three.
What bird species do you offer, and what is the limit?
Flying B is famous for its unsurpassed variety. We shoot pheasants, chukars, Huns, valley quail and ruffed and blue grouse. Our hunts take place from mid-August to mid-April, and there is no limit with the exception of the grouse.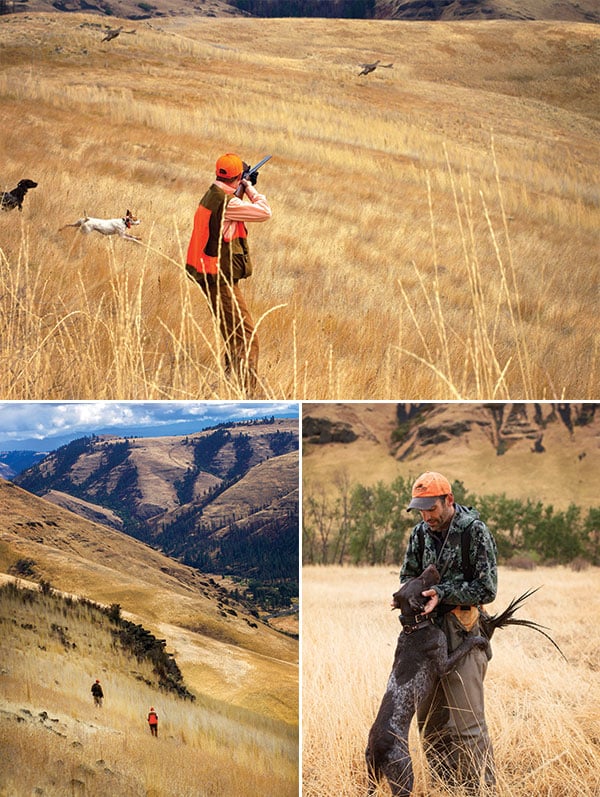 What is your hunter-to-guide ratio?
We can take up to 21 people in the lodge at any given time, but in the field we generally go with 3-to-1, 2-to-1 or 1-to-1 hunter-to-guide depending on the clients' needs. We also limit the number of guides in the field at one time to seven, allowing groups the maximum amount of room on our 5,000 acres. We want each group to feel like it is the only one on the property.
What are the terrain and cover like?
The terrain is varied, with the canyon's plush valley floor giving way to brushy sidehills and draws, areas of thick timber, rocky outcroppings and eventually grass-topped rims—all teeming with birds and offering unique challenges. Guests can choose extremely challenging cover or very easy cover and everything in between.
Do you hunt with pointing or flushing dogs? Can a hunter bring and hunt with his or her dog—and if so, where will the dog stay?
We hunt mostly with pointing dogs and are often told that they are among the best our guests have ever seen. If guests want to bring their dogs, we have kennel facilities and four dog-friendly rooms in the lodge.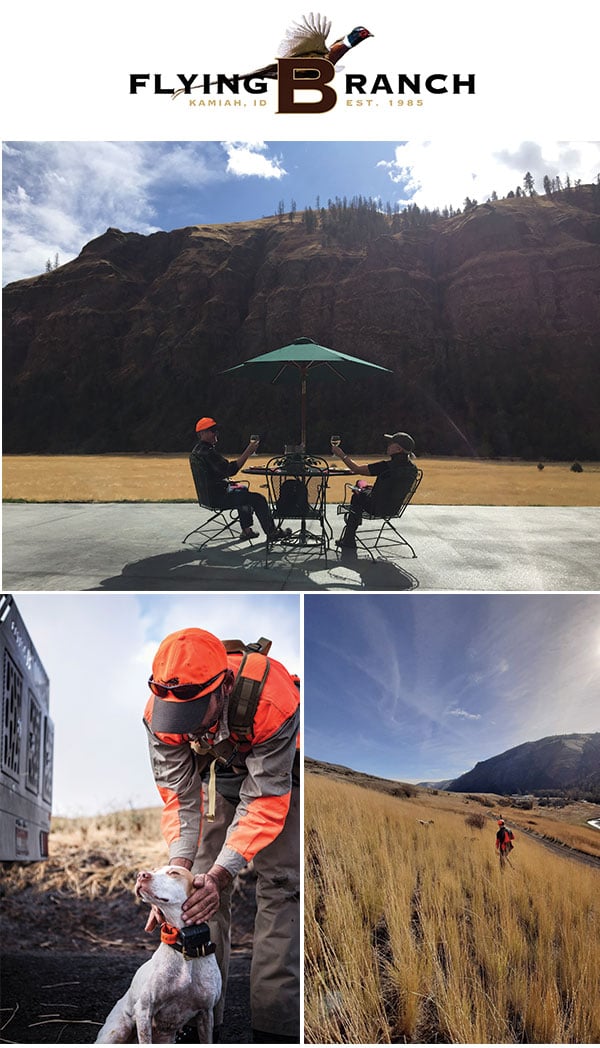 Do you welcome non-hunting spouses—and if so, what is there for them to do?
Non-shooters are definitely welcome. They can hike, fish our private trout pond and enjoy wonderful amenities that include a Jacuzzi overlooking the canyon, in-house massage therapists, a sauna and a large patio with a fire pit to socialize around in the evening. Non-hunting spouses also are invited to choose hunts that they would like to walk along on. This provides a scenic view of the ranch and an opportunity to see our magnificent dogs working up close. Cameras welcome!
How is your lodging managed?
Our main lodge has 14 bedrooms with private baths and 20 beds; our guesthouse has five bedrooms, three baths and seven beds. Our standard price includes single occupancy.
PHOTOGRAPHS COURTESY OF TERRY ALLEN AND FLYING B RANCH
---