Why Smaller bores?
Without the skeet game the 28g would likely be dead and gone. It is a fairly recent phenom that people are buying 28g guns in large numbers. I use mine for quail and it is a delight. I have a Beretta two barrel set, 20 and 28, and I use the 28 on quail and both on skeet when the mood moves me. The Beretta weighs in at 6 1/2lbs and is as light a gun as I can shoot. I just love shooting the 28 at skeet in my big old Perazzi with the Briley tube set. With this set up there is no recoil and if it didn't make some noise you wouldn't know it went off. Great fun. I reload the 28g and have gone to WW shells for the best reloads. Reloading this shell takes the sting out of the price. My skeet scores with the 28g rival and often surpass what I can do with the larger bore guns. I also bought some wads to do the 3/4oz 20g load but have not had the chance to try that one yet.
I did buy one one of the lovely little F.A.I.R. Iside guns in 28g, but it is so light that I find it difficult to shoot well. More practice required.
We are off to the Vintager SXS Championship at Hausmann's this week and hope to see some of you there.
Posted : September 17, 2019 6:22 pm
Sorry about the clumsy looking replay, the quote, reply and several other options don't work for me here...
Now, I reload 20 gauge with 3/4oz and don't look back.
I love a 3/4 oz. 20 gauge load.  It is all I shot for years, and I'd still be on that path had I not found a 16 that' fits me perfectly, shoots where I look and is a joy to carry all day.
"Some people stand tall as great leaders because they elevate all the people around them, some seek to stand tall by pushing all around them down."
Posted : September 18, 2019 2:16 am
Gentlemen,
    I do not know much about the Mystique of a 28 gauge, I have a few of them and Grouse hunt with them quite a bit. I use to shoot  lot of clays with my 28/20 Combo gun, loved shooting true doubles with the 28.  For me there is no Mystique in the Grouse woods with a 28 gauge double gun, just more skill needed to down God's greatest game bird.
I do have 3 28 gauge guns built on a 20 gauge frames and a new 555 Savage built on a 28 frame.  I use a lot of RST & Poly SpredR shells in these guns while Grouse hunting, B&P and Fiocchi when shooting clays.  Have to agree they are more expensive, however I do not want to reload any more.  Further if I want to carry a 20 gauge frame in the Grouse woods, it will be a nice light pre 13 L.C. Smith or a 1800's Best J.P. Sauer 16 gauge built on a 20 gauge frame.  I like 28 gauge guns, however I realize their limitations.  No Mystique for me.
Dave B - L.C. Smith Man
Nice little 28/28 Citori Combo gun, way to heavy for a fine Grouse gun however.
[img]
[/img]
Posted : September 22, 2019 7:02 pm
I don't know that there's any real "mystique" regarding 28 gauge guns. I also don't think the Skeet game plays a large role in the upsurge in 28 gauge guns. I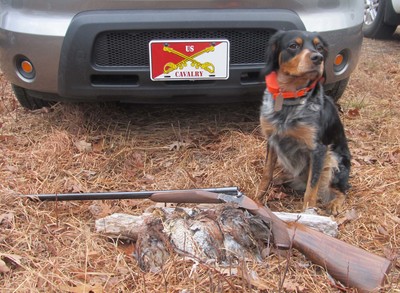 happen to own two 28's. One,  (my first some 8 years ago) is a CZ Huglu Ringneck SxS. Upon retirement some 4 years ago I bought myself a Fausti DEA 28 (SxS) with 30 inch barrels.
I'd been shooting a Winchester 101, Pigeon grade 20 gauge gun since 87. I found it much more appealing than any 12 gauge I owned. Twelve gauge guns feel like I'm holding on to a 2x4 these days. Upon purchase of the CZ 28 I don't find myself reaching for the 20 much anymore. The 28 has so much more finesse than does the 20 and a great deal more than any 12.
I find that I kill about just as many birds with my 28's as I did with my 20 gauge guns. I will admit that I'm very much more conscious of the distances I shoot at birds. The 28 certainly has some mild limitations, but when gunning over a pointing French Britt I can adjust to those limitations and choose my shots...or not.
I've said before that there doesn't really make much difference what gauge you're shooting, in that if your timing is good and you're "on target" so long as the "bird" is within range of the bore of your gun, the "bird" will fall. It's all a game of "Time on Target."
I should add that I occasionally still use my Sterlingworth 16 gauge. It was my wife's grand father's gun, and it demands to be taken afield several times a year. ;~)
Tolerance is the virtue of a man without convictions.
Posted : September 23, 2019 7:01 pm
Crazy Horse RVN,
   I hope you are having fun with your Fausti 28 gauge gun, the girls did right by you and you have a beautiful gun.
I was thinking about why we also use sub gauge guns.  One of the reasons has too due with social acceptability in places like the Southern & Western Quail plantations.  It is the accepted norm to use a sub gauge gun while gunning wild Quail, even the AZ Mearns Quail hunters, on open land, mostly use 28 or 20 gauge guns  
Now granted this is more of a social etiquette situation while hunting wild Quail.  The operators of the Quail Plantations may never say anything to a man who brings a 12 gauge gun to hunt with, on their plantations.   However I have seen them offer one of the establishments  good sub-gauge guns to  men who are going to use a 12 gauge gun while gunning their wild plantation Quail.  The sub-gauge gun is the socially acceptable norm in some hunting situations.  While driven bird shooting is done most times with a 12 gauge gun, the social etiquette is much different on a Southern Quail Plantation.  In the North East this tradition can also carry over to a Grouse & Woodcock camp depending on the members.
Dave B - L.C. Smith Man
Classic American Sub gauge double guns are seriously nice for Wild Quail, Grouse and Woodcock hunting.  The L.C. Smith 20 Gauge #2 gun was fully sleeved by Briley for 28 gauge long ago.
[img]
[/img]
Posted : September 24, 2019 2:00 am
Dave, I passed on an LC Ideal grad 16 gauge many years ago. I'm still kicking myself.
Tolerance is the virtue of a man without convictions.
Posted : September 24, 2019 6:51 am
I have enjoyed all the posts here on this since I began the subject a month ago. Reading the different stories has been interesting and illuminating. Thanks to all participants.
Since I began shooting late in life - at age 60 - and never had a family member or friend as a guide or mentor toward shooting, my opportunities, needs, and experiences have followed a different path than many. I started with a 12 O/U because that's what I saw the first time I went shooting, at a tower shoot on Long Island. Since then, I had a short-barrelled English SxS, now about 90 years old, for such events where I no longer shoot, and have given that gun to my son. I bought a 20 twin to my first 12, but never shot it so I sold it. Several years ago, I decided to drop back to a 20 to save weight on the gun and carrying ammo around, and I've been extremely happy for doing so. I've never owned an American-made gun, though I've bought one, a CSMC 20 for my grandson. My Brownings were made by Miroku.
I've never had the urge to acquire guns for the sake of acquiring them. Each gun I've bought has been for a specific purpose, and I've gotten rid of those, never with any regrets, that didn't work out, or when I no longer had a need or use for them. I look at my gun simply as a tool. I have a couple of small collections of other items, but have never had any inclination to collect guns.
To each his own.
Posted : September 24, 2019 10:08 am
Crazy Horse RVN,
   The 16 Ideal is a nice gun, if it was at a reasonable cost when you passed it up, you definitely made a mistake.
Moonshine,
Now that I have learned that you had no mentor or friend to advise you on your hunting and gun purchases I understand your posts a little more.  Our double gun world is a tough place to learn, hunting here in the USA  is the same way, you can only learn so much on your own about our hunting traditions.  Most times this knowledge is passed down thru the family for generations. Picking up the interest at 60 years old is definitely getting a late start.  It looks like you have used sound judgement on the guns you have acquired, including the modern CSMC 20 gauge.
Dave B - L.C. Smith Man
Posted : September 25, 2019 1:27 pm
I have followed Moonshine's post on this site all well as another one over the years. I grew up hunting from an early age and living on a farm had to the opportunity to hunt often.
I really admire Moonshine and what he decided to do late in life with no family mentor and no experience . He obviously has the financial means to pursue many things in his later years but he got into shooting when he was 60 and has pursued it vigorously since then. In addition, he has gotten his son and grandson involved and hopefully they will carry on his passion for the shooting sports.
Thank you.
Don
Posted : September 25, 2019 1:50 pm
Don -
Thanks for the kind words. In terms of my introducing folks to shooting, after a fairly extensive but quick mental reconnaissance, I count five children, five grandchildren, and five friends (in two generations).
Of this group, plus others, I have introduced all the above, and several others to sporting clays; and have introduced four friends and five family members to driven shooting, whilst playing a role in bringing several others to shooting driven.
I have had great support from friends and at several shooting venues over the years in carrying out these fun experiences.
The next one with friends and family will be the last full week of next month.
I've aged to the point of needing support while shooting - leaning against the stand at SCs, and seated at driven - but I can still shoot safely.
Excelsior!
This post was modified 8 months ago by
Moonshine
Posted : September 25, 2019 3:04 pm
Dave, I passed on an LC Ideal grad 16 gauge many years ago. I'm still kicking myself.
I stumbled into an Ideal 16 with 30" barrels a few years ago and jumped on it.  Glad I did, but didn't need it.  It fits me and I shoot it pretty well.  I think the Ideal is about the nicest Elsie.  I have a Crown Grade but I prefer the Ideal.
Back to OP's topic and questions.  I shoot one of several .410s on doves with good success.   I started with a .410 Mossberg bolt action when I was a kid and couldn't hit much with it.  Went back to a Model 42 50 years later as an ego thing because my brother told me I couldn't shoot a limit with it.  Put dove limits in the bag on less than one box of shells, 2-1/2" skeet loads with #8s, and I was hooked.  Now I use a .410 because I enjoy it, and it has made me a better shooter.  When I do use a 12 on occasion, I am somewhat surprised at how easy doves are with a 12 (there's the ego thing again).  My normal dove gun is a 686 20 gauge, but I typically shoot a different gun in a different gauge on each day during the early season.  I'm getting older and I find that I shoot better with a lighter and quicker gun.  For ducks, it's a 20 ga early and a 12 ga late.  For wild pheasants, it has recently been a 20, but a 12 works better to anchor them without a dog.  For chukar and Gambles and mountain quail, it's still a 12.  I'm in California and the banning of lead for hunting has royally screwed my gun choice process.
Posted : October 2, 2019 10:08 pm
Ducky's Dad,
Being that the Ideal Grade L.C. Smith is an entry level graded gun and the Crown Grade is way above that entry level graded gun, you must have a 12 gauge Crown grade gun.  The 16 L.C. Smith Ideal is a very nice Grouse gun for sure, however if you ever have the chance to hunt with the Crown Grade 16,  you will change your mind on your favorite gun.  Depending on the particular Kraus engraving on the Crown Grade 16, they are incredible guns, no Ideal Grade really comes close.  The pre 1913 #3 16 gauge guns are just fantastic also, with their light German style engraving.
Now the Deluxe Grade 16's are fantastic guns for sure.
Dave B - L.C. Smith Man
[img]
[/img]
Posted : October 3, 2019 6:32 pm
I just think the Ideal is more tastefully executed for a field gun.  Much as a Parker GH or DH is more tasteful than an A1 Special, even though the A1 is a much more desirable gun.  And yes, my Crown Grade is a 12.
Posted : October 3, 2019 8:35 pm
DD,
   I agree the 16 Ideal is a really tastefully done entry level graded gun, I prefer the pre 1913 #3 16 gauge over the Ideal grade guns however, both are really nice guns for sure.  
I have a pre 1913 00 special order 16 gauge 2 Barrel Set gun, with #1 gun engraving and upgraded wood, ordered by my Grandfathers cousin.  The old dutchman knew how to make his money go as far as possible, that particular 16 gauge gun is my favorite Grouse gun.   One set of barrels with custom fore end, choked for Pheasant & Ducks, the other with its own splinter fore end choked for Grouse, Woodcock & Quail.
Dave B - L.C. Smith Man
[img]
[/img]
A close up of Kraus's Spinning Clay Engraving on the old pre 13 gun, both Side Locks with identical Kraus Engraving.  A one of a kind Special order L.C. Smith double gun.
[img]
[/img]
Posted : October 3, 2019 9:15 pm