SSM Dog of the Year - SM Mogul
Gentlemen,
   Congrats to Bailey Peterson and his Small Munsterlander Mogul.  Peterson's Mogul received the honor of being named Shooting Sportsman 2018 Dog of the year.  See the short write up on page 18 of the SSM May/June 2019 issue.  
Having own a world class Male Small Munsterlander myself I can attest to the incredible talent of these Versatile Gun Dog.  The only dog I ever saw that could track and retrieve with Sampson my SM male was Steve's big Chessie and there is no other dog breed who competes with a Chessie as far as Retrieving Ducks and Birds.  Mogul's talent range is like Sampson's, hunting every different kind Grouse and Quail along with Ducks and Geese.  My Sampson also hunted Turkey to be pointed and shot on the wing, the same as Grouse.  If you have never seen a SM dog at work they look more like a wolf as they hunt, instead of a bird dog.  Having Steve's big Chessie and Sampson my SM hunting together in the same forest was incredible to watch,  Mogul is probably the same kind dog.  Bailey Peterson should be some kind of proud, of his incredible SM Dog.  See Mogul's picture in the SSM, page 18.
Dave B- L.C. Smith Man
Pine Creek Sampson our incredible SM, with his true Double Grouse, taken with an L.C. Smith 16 Gauge Hammer Gun.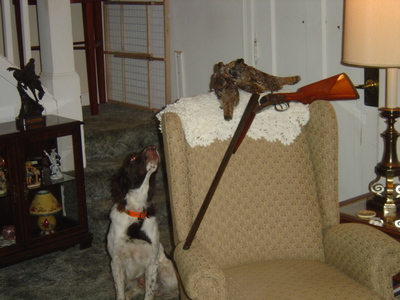 Posted : April 14, 2019 12:27 pm
thornton,
   I have no idea how the SSM Dog of the year is chosen.  Maybe the same group who appraises the Hunting Lodges chooses the gun Dog of the Year also.  It's an SSM choice.
Dave B - L.C. Smith Man
Posted : April 15, 2019 5:35 pm
From last year's contest (found by using that search thingy at the top of the page):
Your entry will be reviewed by a panel of Shooting Sportsman judges and, with luck, will be selected as one of eight finalists. The finalists then will be asked to send more-detailed profiles of their dogs, so that we can evaluate them and choose our Dog of the Year.
How will entries be judged? To be honest, there are no specific criteria, but we'll know the finalists when we see them. What we can tell you is that we are looking for hunting dogs (of course) and that appearances and image quality count too.  But this contest is as much about having fun as anything, which means that "intangibles" will factor heavily into the judging.
So, to answer your question, pretty subjectively.  I remember when some pretty serious trialers posted here and this would have initiated a 20-30 page topic.
Posted : April 15, 2019 5:54 pm
Buford,
You are absolutely correct and IMO the SSBB & the SSM is not a FT type venue.  The Small Munsterlander versatile hunting dog awarded the dog of the year this time, is a pure companion type hunting dog for sure, and bred to be that way for hundreds of years.  The testing is done by VGP point competition that appear on the dogs German Pedigree papers, to assure repetitive high quality versatile gun dogs are being bred.  There are many different categories in the testing, all points added together to determine final score.  A dog with scores above 300 is considered to be an outstanding Versatile gun dog worthy of continuing the breed line, by the Breed Warden.
Dave B - L.C. Smith Man
Posted : April 15, 2019 6:56 pm