Pheasant outlook for 2018/2019 Pheasant Season?
By now Game Agencies should have some idea as to what we Pheasant hunters can expect this coming hunting season. Has anyone seen any reports from their state on this subject?
I've seen some goslings and some ducklings so I would guess that folks should be seeing some Pheasant chicks about this same time.
Has Pheasants Forever put out any information, and what are you seeing.?
Tolerance is the virtue of a man without convictions.
Posted : June 12, 2018 7:12 am
So, this is inferential at best.
I was reading about Housing demand, and why the manufactured housing business cannot gain traction to address the shortage.
In that article, I saw stats for 4 states with birds.  ND SD NE and KS.
In short, another few million acres of crp type land lost to row crop farming.
So, couple that with pesticides and their broad effect on chick food, and I believe the larger picture is steeply downward.
You may ultimately find states with pockets that have bounced up on public lands, but those pockets probably need to be kept private.
And, of course, expect the destination states for all things bird to post glowing reports any time soon.
Even after MN's egg -on-the-face pronouncements last year.
"Chemists make good solutions" 🙂
Posted : June 12, 2018 10:01 am
Crazy Horse RVN,
   Can't remember just where I read it, however the Pa Game Commission is planning to stock a lot more Pheasant for this coming season, according the the article.
I know we are suppose to get more Pheasant stocked in Potter and Tioga Counties for sure.  The great thing about hunting the Pheasant is that the Pa Pheasant season runs clear into February, as Grouse season should.
Dave B - L.C. Smith Man #2
Man look at all those Pheasants! - Training Birds for me to have fun with.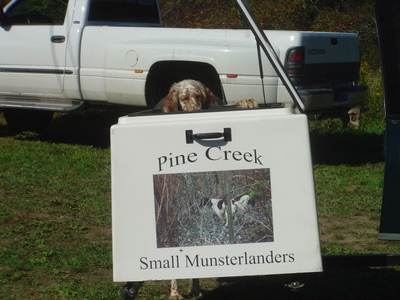 Posted : June 12, 2018 10:02 am
FWIW, I spent March and April in NE PA.
It's the proceeds from the Marcellus shale drilling and your new pheasant stamp that is providing the cash for the PA wildlife people to "free" 220K+ more pheasants on your gamelands in 2018.  
What's with the sign in front of the setter Dave?
"Chemists make good solutions" 🙂
Posted : June 12, 2018 10:54 am
Greg T,
   Old picture of Sampson our SM Stud Dog, on the side of the Cargo Box, mostly used for stocking training Birds and bringing Elk Back from Montana.  Sampson passed away almost 2 years ago now.
The Gas drilling revenue was more than enough to pay for all the Pheasants the PGC ever wanted to stock, no need for a Pheasant stamp what so ever.  Just thievery by the PGC politicians, because so many of us bird hunters are now life time license holders.  Ruthless politics here in Pa.
PGC institutes a Pheasant stamp and cuts the best part of Grouse season, and at one time we had the best wild Pheasant Program in the USA right here in Pa.  Young bird hunters today, have no idea how they have been screwed.
Dave B - L.C. Smith Man #2
Posted : June 12, 2018 4:32 pm
I am going to work hard going forward to make my contributions here a "No Politics Zone".
The man asked where the money came from, and it took a guy from MI to answer for him.
Changing land use and population growth ended wild pheasant hunting for the eastern masses.
I asked about the picture because it looked like an ad.  Now I see that it is the end of a bumper hitched cooler of some kind.
I was working in Berwick, and then Jessup.  So I saw much of PA's NE corner.  Hard times there.
"Chemists make good solutions" 🙂
Posted : June 12, 2018 5:05 pm
This is the latest from the PGC.
There is no fee for a junior pheasant permit, but the free permit will help the Game Commission track youth participation. A pheasant permit costs $26.90 for adults and seniors. However, hunters who acquired their senior lifetime hunting or combination licenses prior to May 13, 2017 no longer need a pheasant permit to hunt and harvest pheasants.
http://www.media.pa.gov/Pages/Game-Commission-Details.aspx?newsid=218
~~~~~~~~~~~~~~~~~~~~~~~~~~~~~~~~~~~~~~~~~~~~~~~~~~~~~~~~~~~~~~~~~~~~~~~~~~~~~~~~~~~~~~~~~
In fact, the Pheasant Stamp was a failure. They didn't get the response and cooperation they had expected from hunters. I can't remember exactly, but I think only 60% bought the stamp. The agency fell far short of what they wanted.  Also, now that we Lifetime License holders no longer are required to purchase the Pheasant Stamp I'm betting the percentage of purchasers of the stamp will fall dramatically.
What the agency really needs is a license increase and a non-resident reciprocity clause.
"Changing land use and population growth" weren't the only things that ruined the Pheasant hunting in PA. Let's not forget the use of strong pesticides and the Avian Flue of the early 1980's which really knocked the bottom out of our Pheasants.
Tolerance is the virtue of a man without convictions.
Posted : June 12, 2018 7:41 pm
I would not say that 60%(I thought it was less) participation in the PA Pheasant Program was a failure....misjudgments by the PGC, hatred of the PGC, hatred of permits themselves and more were in play and would be in play with any first time step such as the stamp.
The Michigan Wolf permits resulted in less than 50% of the reckoned kill.....failure?, nah.....again, many reasons. Reckoning failure needs an analysis, often, of the reckoner. Adjustments and understanding are not unusual...even for DNRs....highly unusual for hunters tho.
Yes, PA needs a hunting license increase....and have for years. Reciprocity is a grand idea. 
The Marcellus did not hurt and was in the car...however, it was not behind the wheel.
Any bird decline has many enablers....from hunters onward. PA pheasants can and could not escape the reality of it's changing world.
*note...I hope the PGC increases the release areas of pheasants back to previous levels...along with the increase in the number of birds back to recent normals. Less physical notice of release areas would also be a very good thing.
Posted : June 13, 2018 9:32 am
Even though as a lifetime PA license holder I am no longer required to purchase the Pheasant stamp/permit, I will continue to purchase it. I want the Pheasant program to continue and to expand. It won't happen and can't continue without our support. Hey, it's only $29 and change. I pay that and sometimes more for a case of decent beer.
One thing needed badly in PA is as Thornton suggested. The agency needs to adopt or develop a better method of stocking distribution. It's too easy for guys to follow the stocking truck. Perhaps stocking at the very end of shooting hours would benefit.
But lets hear form the folks in the Midwest and Western states at to the Pheasant prospects this coming gunning season.
Tolerance is the virtue of a man without convictions.
Posted : June 13, 2018 10:32 am
 Iowa will not have there estimates till the August roadside counts are done.  I will tell you a farmer friend of mine said they burned a CPR field on fire and he said they were surprised at the number of Pheasants that came out of it.
 I am expecting increases in numbers in Iowa from what I have been hearing,  not huge numbers but a increase but we will see in late August when the report comes in. 
Posted : June 14, 2018 5:51 pm
Crazy Horse RVN,
    Nice to have the PGC let us know about the change, when did the PGC announce that the life time license holders before May 2017, did not have to purchase a Pheasant Stamp any longer.  Great stuff but why no formal announcement from the PGC, as we renew our life time license each year, and pay for our Woodcock Stamp?
Now you do have a good point about supporting the Pheasant Program, as a voluntary donation.  I will probably contribute to the PGC Pheasant Program.  Especially if the Gas money keeps being used for the Pheasant Program, and Grouse Habitat Management.
Real easy to eliminate the Stock Truck followers,  No Pheasant hunting in the release area where the Pheasants are stocked for 2-3 days.  Stock on Sunday and no bird hunting in that area, on Monday and Tuesday.  I can hear the screaming now!  A bird hunter has to be a low life to follow a stock truck to begin with, IMO nobody should know the stocking schedules to begin with either.
It's common knowledge here in Pa that the Gas money, from the SGL Gas Wells is helping to fund a lot of different PGC programs, including the Pheasant stocking Program.  This fact has been announced and written up by the PGC on more than one occasion.   However what the PGC failed to publicize is that the PGC does not necessarily have a mandatory legal commitment/obligation, to use this money for the funding of the Pheasant Program, or the Grouse Habitat projects.   Which means political games can once again be played with these Gas monies.  
I do agree with the reciprocal hunting license costs, for the most part, this could be both good and bad for the hunters of Pa.  In reality the cost of out of state license should have increased substantially years ago.  
Here in Pa we have many many out of state hunters, many even own camps here in the Pa mountains, and pay Pa Taxes.  IMO these sportsman who have invested in hunting cabins/summer homes and land, should get to purchase Pa Resident Hunting Licenses.   This has been argued many times in the past, and fallen on deaf ears at the PGC, however the Pa Constitution many forbid changing this particular PGC law.  
The Sportsman not owning Hunting Cabins/Summer Homes, should definitely be made to purchasing the out of State Hunting License, and IMO the cost should definitely increase, to be equal with the state they are residence of, setting up hunting license reciprocity cost.
There are many factors that influence whether I purchase a hunting license from our ajoining states.  The big factor is hunting season time.  Even though I hate purchasing a NY out of state small game hunting license, because of NY's Unconstitutional gun control policy, I will probably be doing so once again, because of the elimination of Pa's late season Grouse hunting.  
Our home forest here in the Tioga mountains, run back and forth from Tioga Pa to Tioga NY, and without a seriously good GPS and perfect satellite coverage, it's impossible to tell just where you are as you Grouse hunt the big forest.  Yet the Ny Grouse season, with it's 4 Grouse a day limit goes deep into the winter, and Pa's with it's 2 Grouse a day limit, now ends just before Christmas.  A very similar situation happens on the border of Pa and WVa.
Happy Father's Day Everybody!
Dave B. - L.C. Smith Man #2
Posted : June 14, 2018 8:32 pm