Dogs what Breed is your Favorite and Why.
I have a friend that acquired a GSP that he wanted to hunt with, but was concerned it might be gun shy after shooting a bunch of flickers with the dog near by. He brought it over several days in a row, we released pigeons for the dog to get him fired up about birds. Several days later, we started making some noise when the bird was released, followed by a cap gun at a long distance ,then closer. All was going pretty well, but this guy was serious type A and in a hurry to get it done. Next day, I gave him my .22 revolver with blanks, put him back 100 yds, told him when the bird flushes, fire a shot the opposite direction into the ground to muffle the shot. The dog finds the bird, I release it, dog's fired up until the guy empties the pistol. Still don't know what he was thinking, but it then took 4 months with a very good professional trainer to get the dog to where he could shoot over it.
47sgs,
      There are a lots of inexperienced owners that make big mistakes with their gun dogs, especially so with their 1st gun dog.  Teaching them is half the training job.  Owning a good companion Grouse Dog is a gift from God.  
 George Ryman said if a man took his dogs out in the Grouse woods, the dog would eventually teach his master how to Grouse hunt.    Because of his incredible breeding program at the time, he was absolutely correct.  I watched it more than once.  The owner however had to have good common sense, there were many people George Ryman would not sell his gun dogs too, some were pretty famous people.  
I once was training a mans Setter, and the dog was a good dog, but very young.  The man gave me a lot of garbage about the way he wanted his dog training done, and he wanted it to happen quickly.  I advised him that his dog was not mature enough, for the training he wanted done at that time of the dogs life.  The Setter was a nice dog and very playful, it would bark at the man when he was sleeping on the couch,  especially when he wanted to go out.  The man told me he was about to due the same thing to the dog while the young dog was sleeping.  I advised him not to scare the pup while it was sleeping, he was being foolish.  He disregarded my training advise and when the dog was sleeping in front of the fire place, he got right in the dogs face and barked like another dog.  His young Setter bit him right in the face, the man almost lost one of his eyes.  
We parted company because of his foolishness, there are some people with no common sense, who should just not own dogs, especially Gun Dog.  
Dave B. - L.C. Smith Man #2
Edited: 4 days ago
Stoy Asmussen,
I have a couple favorites.
One of my favorite Gun Dogs is the Small Munsterlander, great Companion hunting dogs that really produce while hunting.  A Versatile Gun Dog from Germany, one of the oldest on record.  GVP Tested for many many generations.  The Northern German Farmers used the dogs to supply game to the open air markets in Germany, way back in the age of the German Kings.  Bred to be a mans personal hunting companion and protector.  The German Kings ordered the northern German farmers to register their SM dogs, prior to any other kind dog registry actually ever known, because the SM dogs were producing so much game for the markets, that the Royal Family thought the dogs were being used for poaching on the kings lands.
The SM was also used to guard the farmers family and live stock while the farmer worked his fields.  These dogs do not take well to being kenneled away from their Master and Family, bred to live as part of the family they are incredible Companion animals.  Used to hunt Grouse, Rabbits, even German Red Stag, these dogs are serious hunters, and were so even before guns, were invented and used.  Fantastic tracker and retrievers, of most every kind of fur and feather,  GVP tested they excel as a Companion hunting dogs.  
These dogs are not field trial stock, some have tried to make them into FT dogs, it never works.  Bred totally as a Companion Hunter/Protector, for many many generations, their genetic imprint is to hunt with and for the master.
Dave B - L.C. Smith Man #2
Pine Creek Sampson on Grouse point in the Potter County Mountains.
In my Brother Kurt's words "Sampson could sneak up on a Grouse's Ghost"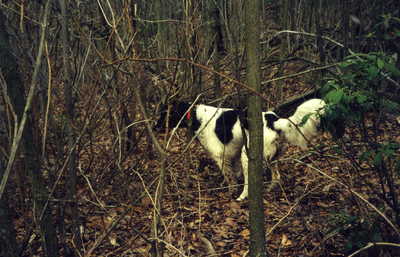 Edited: 3 days ago
Since I live in a big city the last two dogs I've owned have been French Brittany's. The first one went 45 pounds, and that's big for a French Britt. My current French Britt is about 35 pounds. Both dogs have been great hunters. Unfortunately my current French Britt will not retrieve to hand. He will point and go to the dead bird and stay with it, but will not bring it to me.
I've tried several training methods all to no avail. He's 5 now and I've decided to live with the problem. Living in the city I like the dog to be in the house with me.I don't like the idea of a big dog in the house, and the French Britt works out quite well.
But I firmly believe that the very best bird hunting dog is the one in front of the gun when the bird flushes,...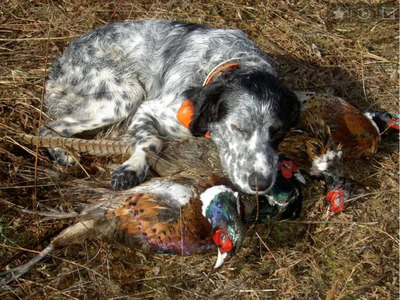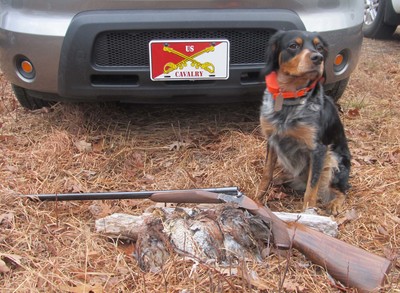 no matter the breed.
Tolerance is the virtue of a man without convictions.
Crazy Horse RVN,
       Something about your handle makes me want a gun close to hand, all the time.
Great looking French Brits, got to love those little bird finders, some like yours do not want to retrieve.  Play training when they are very young, usually over comes this however.  At 5 years old I would do as you indicated and live with her genetic imprint.
Dave B - L.C. Smith Man #2
Edited: 1 week ago
My handle "Crazy Horse" is the radio call sign from my combat company (7th Cavalry Regiment) in RVN.
If you've watched the movie "We Were Soldiers Once and Young" that was my exact platoon and company only 3 years later. We were no less spirited than our predecessors.
Tolerance is the virtue of a man without convictions.
Junnie,
   I disagree about your opinion of there only being two dog breeds for hunting birds.   I love my Setters and the Pointer we owned in Texas long ago also. However Versatile dogs like the Small Munsterlander have been pointing Grouse, even before the Setters and Pointer dog breeds came into existence, and doing an incredible job at it.  These Versatile dogs are not FT type stock, they are great companion hunting dogs who have been bred for many generations to work with their masters.
Before the AKC ruined the Weimar, I owned one that was an incredible Grouse & Mearns Quail dog.  Brought in from Germany back in the early 60's he was an incredible hunting machine.   Never saw a better Grouse Dog than Sampson our Small Munsterlander, he found and pointed more Grouse than most dogs will ever get near, a true meat on the table dog.  
Both of these Versatile dogs were from long time tested true GVP German stock.  These dogs flushed on command and retrieved to hand, and on top of that they both guarded my deaf daughter at different times as she was growing up.
I have been bless with owning some incredible Gun Dogs down thru my 50 plus year of hunting and training.  There are other very serious talented Gun Dogs for hunting birds, than just Setter & Pointers.
Dave B. - L.C. Smith Man #2
Pine Creek Sampson - As my Brother said, "Sampson could sneak up on a Grouse's Ghost."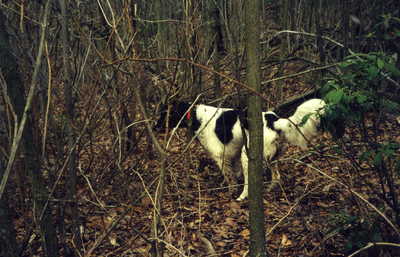 One of Sampson's True Grouse Doubles Taken with an L.C. Smith 16 Gauge Hammer Gun.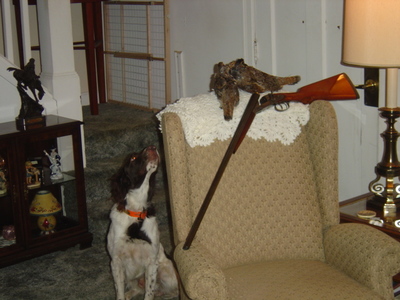 Edited: 4 days ago
. No such thing as a pointing labrador, look it up in Stud Dog Book.... Versatile dogs are like utility out fielders, can do all jobs, but none very well....

"The Labrador Club" (book) says that Labs should not be advertised or sold as a Pointing Breed. I have read the book It doesn't say that they are Flushers, it doesn't say they are pointers. The book says that they are retrievers. Thus my answer , which said Labrador (of the pointing variety).I don't have Pointing Labs, but I do have Labs that point...............Get it ?.
Grasping for straws.  Stud Book reports no such thing as pointing Labradors....  It's make believe.  Sorry Charlie.
Once a man, twice a child....
Posted : June 19, 2018 8:11 am
Gentlemen,
   Part of the quote "Versatile dogs are like utility out fielders, can do any jobs, but none very well" is a big time myth.  
In Fact the  true Versatile dogs from Germany and other Euro countries that are VGP tested, with their test scores on the different breeds Pedigree's, attest to the repeat talent and Genetic imprint of each of these individual breed lines.   Owning one of these Versatile dogs is not inexpensive however, think of the GVP testing as a different kind of field trial testing, only to a much more disciplined standard.  A Versatile dog with GVP test scores in the 300 or higher range is an incredible companion hunter.  
The American version of these Versatile dogs is not the same, however most times the breed can be traced back to the original GVP tested line.  Without the GVP testing and a Breed Wardern to govern the breeding of these American born dogs, the Genetic imprint becomes a watered down version of the original Versatile dog line.  Most are still great hunting dogs for the average American Hunter however.
There is no way to compare a GVP tested Versatile dog to an American Field Trial Pointer or Setter the dogs are bred to different standards, for completely different jobs.  Neither dog is really better than the other, they are tested to different standards for different jobs.
I have owned many Setters and many different Versatile Gun dogs, hunting with both kinds of dog breeds is one of the greatest joys of my life.  Hunting behind a Ryman Setter and a Small Munsterlander as a mixed brace in the Grouse Woods, produces some of the finest bird hunting a man can dream about.  Although completely different in style they complement each others talents, and at times I actually feel sorry for the Grouse, Woodcock, Pheasant and Quail.
Real Versatile dogs are big time companion hunters, tested to a very high standard.
Dave B. - L.C. Smith Man #2
Gretchen and Heston at the Pine Creek Training Facility - Potter/Tioga, Pa
Edited: 2 days ago
Posted : June 19, 2018 10:16 am