Complete this sentence: I miss birds because....
Lee,

   The reason for not seeing a lot of people in those general stores in NH and ME was not because upland hunting was not popular, it was because  there were so few people living in those area's at the time, and transportation was not as reliable for traveling to hunt during the winter months.  

Dave B. - L.C. Smith Man
I'm thinking transportation was plenty reliable in the late 70s, early 80s...unless winters in NH and ME are that much worse than northern WI.  We hunted every weekend until deer season, skipped two weekends and jumped right back in until the end of the year.
"Some people stand tall as great leaders because they elevate all the people around them, some seek to stand tall by pushing all around them down."
Posted : January 14, 2019 4:57 pm
Two of my great-uncles each had a store...the old small country store selling one bolt, a bottle of RC or a slice off a brick of cheese. Wood floors creaked, double screen doors with the bread sign slammed, a wood stove was fed and mail could be picked up behind one counter. I recall the stores no further back than the late 50s but there were some shotshells, .22s and a few shotguns....rifles, fewer in Ohio in amongst all the other stuff and staff of Life. The scatterguns were pumps....M37s as I recall as perhaps Uncle Arnett was a fan, fwltw.
To me, the reason those stores changed in all aspects including shotgun sales was the simple change in customers wanting more options not handled by the comparably small suppliers of the time and, the automobile. Remember the Sunday drive?...I digress. The change within those stores....the loss of those stores has been sad to see. I reckon if one goes back to the 30s more changes would be clear as more will be clear in 30 years. 
Lee was right....upland birds were often of less interest 40-50 years ago in my area, which certainly does not define anything. Here, that time was before the NF creation worked it's wonders and boomed a bird......the country stores, here, then supplied the squirrel and rabbit hunters, the fox chasers and the coon hunters.....deer, not so much. Ruffed grouse, even less. That last changed...and then..it changed again. Such is Life.
Posted : January 14, 2019 5:47 pm
3 Shots,
   It's not a detriment, however it eliminates how you actually hunt, that is why the gun down and safe on position ends up with lower scores on the clays course.  Practice gunning for Grouse or any other wild bird starts from the gun down safe on position.  In the field or woods you get very few changes with safe off and gun up as your true starting point.  Even with a good flush it not like saying pull.
Dave B. - L.C. Smith Man
Posted : January 15, 2019 4:17 pm
I had a Uncle who owned and operated a general hardware store, sold everything from pots and pans to nuts and bolts and guns of all kinds.  K-mart built a store about twenty miles away and put him out of business.  Small West Virginia town.  Talking thirty years ago, perhaps more.      He had a Remington 3200 one of a hundred, real pretty gun, I regret to this day for not buying it.  boo hoo 😥 
This post was modified 3 months ago by
Junnie
Once a man, twice a child....
Posted : January 16, 2019 3:52 pm
If shooting Registered Rocks and the safety is on, it's a miss.  Most target guns don't have a safety, if they do, most will disable the safe.
I've tried many times trying to pull the trigger tru the guard, never once did I succeed. 😳  😳 
There's no way in hell anyone can simulate a covey break or bevy rise shooting blue rocks.  
Once a man, twice a child....
Posted : January 16, 2019 4:00 pm
Junnie,
   If you use the gun down, safe on starting position the idea is to train your body for an instinctive engrained reflex shooting ability.  Nothing really does simulate actual bird hunting.  Sporting Clays with good multiple swivel launchers, does come as close as machines will actually allow.  
Dave B. - L.C. Smith Man
Nothing can simulate this kind of Grouse hunting.  Grouse hunting is a learned experience that becomes an engrained reflex action, when a man becomes good at it.
Click on picture to enlarge.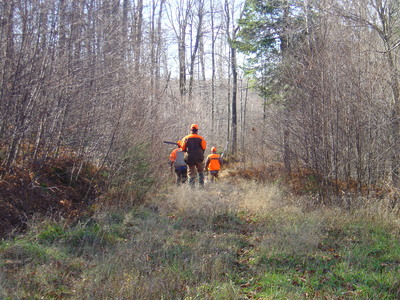 Posted : January 24, 2019 3:08 pm
You'll hunt once with me if you take the safety off prior to the bird in the air, period....  

Target shooting is of course a horse of a different color.   
Ditto.  It's not a subject that's open for discussion with me.  Others may choose to do differently, that's their choice.
"Some people stand tall as great leaders because they elevate all the people around them, some seek to stand tall by pushing all around them down."
Posted : January 27, 2019 5:21 pm
Gentlemen,
  Slipping the safety off just prior to a bird flush while stand still does not bother me to badly, it's the hunter who has a Semi-Auto or Pump Gun with an under mounted safe, that walks around in the Grouse Woods with the safe off, that I will not tolerate.   Have told more than a couple of these young guys they are not welcome to Grouse hunt with us.  Walking around with a Hammer Gun, with the Hammers cocked and the gun closed, gets you banished around here also.  Learning to fall and roll with a loaded weapon is part of hunting, never throw a loaded gun of any type.  We teach this to those who have never been in the US military, so they are safe to hunt with in the Grouse woods.  Pitching a loaded gun on purpose, gets you banished here also.  
Safety is a big responsibility at our Grouse Camp.
Dave B - L.C. Smith Man
Posted : February 2, 2019 12:55 am